A Haunted House 2
(R )
Marlon Wayans, Jaime Pressly
- 1 hr. 27 mins..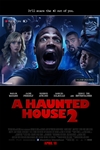 Crossing new lines and breaking old barriers, this is the sequel to the hilarious box-office hit starring Marlon Wayans as Malcolm who, after exorcising the demons of his ex, is starting fresh with his new girlfriend and her two children. After moving into their dream home, Malcolm is once again plagued by bizarre paranormal events. With spine-tingling tension and hilarious punch-lines this film is inspired by the latest supernatural horror movie franchises and shows that this time...it's not just the house that's haunted!
Official Site
Trailer
---
Transcendence
(PG-13 )
Johnny Depp, Morgan Freeman
- 2 hr. 0 mins..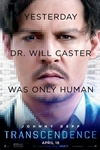 Dr. Will Caster is the foremost researcher in the field of Artificial Intelligence, working to create a sentient machine that combines the collective intelligence of everything ever known with the full range of human emotions. His highly controversial experiments have made him famous, but they have also made him the prime target of anti-technology extremists who will do whatever it takes to stop him. However, in their attempt to destroy Will, they inadvertently become the catalyst for him to succeed - to be a participant in his own transcendence. For his wife Evelyn and best friend Max Waters, both fellow researchers, the question is not if they can - but if they should. Their worst fears are realized as Will's thirst for knowledge evolves into a seemingly omnipresent quest for power, to what end is unknown. The only thing that is becoming terrifyingly clear is there may be no way to stop him.
Official Site
Trailer
---
Rio 2
(G )
Anne Hathaway, Jesse Eisenberg
- 1 hr. 41 mins..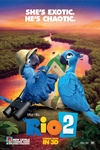 It's a jungle out there for Blu, Jewel and their three kids in RIO 2, after they're hurtled from that magical city to the wilds of the Amazon. As Blu tries to fit in, he goes beak-to-beak with the vengeful Nigel, and meets the most fearsome adversary of all - his father-in-law.
Official Site
Trailer
---
Captain America: The Winter Soldier
(PG-13 )
Chris Evans, Scarlett Johansson
- 2 hr. 15 mins..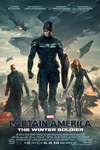 After the cataclysmic events in New York with The Avengers, Steve Rogers, aka Captain America, living quietly in Washington, D.C. and trying to adjust to the modern world. But when a S.H.I.E.L.D. colleague comes under attack, Steve becomes embroiled in a web of intrigue that threatens to put the world at risk. Joining forces with the Black Widow, Captain America struggles to expose the ever-widening conspiracy while fighting off professional assassins sent to silence him at every turn. When the full scope of the villainous plot is revealed, Captain America and the Black Widow enlist the help of a new ally, the Falcon. However, they soon find themselves up against an unexpected and formidable enemy-the Winter Soldier.
Official Site
Trailer
---
Noah
(PG-13 )
Russell Crowe, Emma Watson
- 2 hr. 18 mins..
In a world ravaged by human sin, Noah is given a divine mission: to build an Ark to save creation from the coming flood.
Official Site
Trailer
---
Bad Words
(R )
Jason Bateman, Rohan Chand
- 1 hr. 29 mins..
Guy Trilby is a 40-year old who finds a loophole in the rules of the National Quill Spelling Bee and decides to cause trouble by hijacking the competition. Contest officials, outraged parents, and overly ambitious 8th graders are no match for Guy, as he ruthlessly crushes their dreams of victory and fame. As a reporter attempts to discover his true motivation, Guy finds himself forging an unlikely alliance with a competitor: awkward 10-year old Chaitanya, who is completely unfazed by Guy's take-no-prisoners approach to life.
Official Site
Trailer
---