Spider-Man: Into the Spider-Verse
(PG )
Shameik Moore, Jake Johnson
- 1 hr. 40 mins..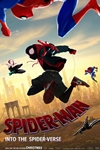 Spider-Man: Into the Spider-Verse introduces Brooklyn teen Miles Morales, and the limitless possibilities of the Spider-Verse, where more than one can wear the mask.
Official Site
Trailer
---
Once Upon A Deadpool
(PG-13 )
Ryan Reynolds, Josh Brolin
- 1 hr. 59 mins..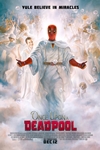 This is a fairy tale that gives zero F's.
To kick off the holidays, Twentieth Century Fox presents ONCE UPON A DEADPOOL. The originally R-rated DEADPOOL 2 has been revamped, renamed and re-released in theaters for a limited run with a PG-13 rating. The only f-word in this film is Family.
"Fox has been asking for a PG-13 basically since the start in 2006," Ryan Reynolds told Deadline. "I've said no since 2006. Now, this one time, I said 'Yes' on two conditions. First, a portion of the proceeds had to go to charity. Second, I wanted to kidnap Fred Savage. The second condition took some explaining..."
Fred Savage will join Reynolds in new added scenes for ONCE UPON A DEADPOOL as an obvious nod to Savage's starring role in the 1987 bedtime-story classic THE PRINCESS BRIDE. Fred remarked, "while my participation in this film was anything but voluntary, I am happy to learn that Fudge Cancer will be the beneficiary of this shameless cash grab."
For every ticket sold, $1 will go to the fittingly renamed charity Fudge Cancer
Official Site
Trailer
---
Creed II
(PG-13 )
Sylvester Stallone, Michael B. Jordan
- 2 hr. 8 mins..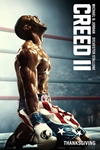 Life has become a balancing act for Adonis Creed. Between personal obligations and training for his next big fight, he is up against the challenge of his life. Facing an opponent with ties to his family's past only intensifies his impending battle in the ring. Rocky Balboa is there by his side through it all and, together, Rocky and Adonis will confront their shared legacy, question what's worth fighting for, and discover that nothing's more important than family. Creed II is about going back to basics to rediscover what made you a champion in the first place, and remembering that, no matter where you go, you can't escape your history.
Official Site
Trailer
---
Fantastic Beasts: The Crimes of Grindelwald
(PG-13 )
Eddie Redmayne, Katherine Waterston
- 2 hr. 14 mins..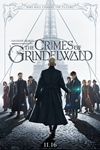 At the end of the first film, the powerful Dark wizard Gellert Grindelwald (Depp) was captured by MACUSA (Magical Congress of the United States of America), with the help of Newt Scamander (Redmayne). But, making good on his threat, Grindelwald escaped custody and has set about gathering followers, most unsuspecting of his true agenda: to raise pure-blood wizards up to rule over all non-magical beings.
In an effort to thwart Grindelwald's plans, Albus Dumbledore (Law) enlists his former student Newt Scamander, who agrees to help, unaware of the dangers that lie ahead. Lines are drawn as love and loyalty are tested, even among the truest friends and family, in an increasingly divided wizarding world.
Official Site
Trailer
---
Instant Family
(PG-13 )
Mark Wahlberg, Rose Byrne
- 1 hr. 58 mins..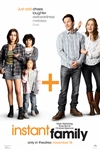 When a couple decides to start a family, they are inspired to pursue adoption through the foster care system. They feel like wonderful, altruistic people until they suddenly have three wild kids in their home. Now they must learn to love and parent children who have no interest in being parented in this heartwarming comedy.
Official Site
Trailer
---
Dr. Seuss' The Grinch
(PG )
Benedict Cumberbatch, Rashida Jones
- 1 hr. 30 mins..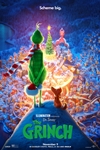 The Grinch tells the story of a cynical grump who goes on a mission to steal Christmas, only to have his heart changed by a young girl's generous holiday spirit. Funny, heartwarming and visually stunning, it's a universal story about the spirit of Christmas and the indomitable power of optimism.
Official Site
Trailer
---