Jumanji: The Next Level
(PG-13)
Dwayne Johnson, Kevin Hart
- 1 hr. 54 mins..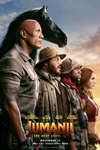 In Jumanji: The Next Level, the gang is back but the game has changed. As they return to Jumanji to rescue one of their own, they discover that nothing is as they expect. The players will have to brave parts unknown and unexplored, from the arid deserts to the snowy mountains, in order to escape the world's most dangerous game.
Official Site
Trailer
---
Star Wars: The Rise Of Skywalker
(PG-13)
Mark Hamill, Andy Serkis
- 2 hr. 35 mins..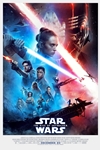 No one's ever really gone... Rey's journey continues and the Skywalker saga concludes in Star Wars.
Official Site
Trailer
---
Little Women
(PG)
Saoirse Ronan, Emma Watson
- 2 hr. 15 mins..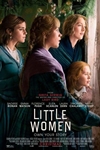 Writer-director Greta Gerwig (Lady Bird) has crafted a Little Women that draws on both the classic novel and the writings of Louisa May Alcott, and unfolds as the author's alter ego, Jo March, reflects back and forth on her fictional life. In Gerwig's take, the beloved story of the March sisters - four young women each determined to live life on her own terms -- is both timeless and timely. Portraying Jo, Meg, Amy, and Beth March, the film stars Saoirse Ronan, Emma Watson, Florence Pugh, Eliza Scanlen, with Timothée Chalamet as their neighbor Laurie, Laura Dern as Marmee, and Meryl Streep as Aunt March.
Official Site
Trailer
---
Spies in Disguise
(PG)
Will Smith, Tom Holland
- 1 hr. 42 mins..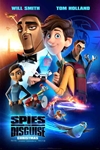 Super spy Lance Sterling (Will Smith) and scientist Walter Beckett (Tom Holland) are almost exact opposites. Lance is smooth, suave and debonair. Walter is - not. But when events take an unexpected turn, this unlikely duo are forced to team up for the ultimate mission that will require an almost impossible disguise - transforming Lance into the brave, fierce, majestic... pigeon. Walter and Lance suddenly have to work as a team, or the whole world is in peril.
Official Site
Trailer
---
The Grudge
(R)
Andrea Riseborough, Demián Bichir
- 1 hr. 34 mins..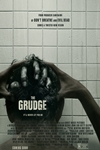 Producer Sam Raimi brings us a twisted new take of the horror classic.
Directed by Nicolas Pesce, THE GRUDGE stars Andrea Riseborough, Demián Bichir, John Cho, Betty Gilpin
with Lin Shaye and Jacki Weaver. With a screenplay by Nicolas Pesce and a story by Nicolas Pesce and Jeff
Buhler, THE GRUDGE is based on the film "Ju-On: The Grudge"written and directed by Takashi Shimizu.
Official Site
Trailer
---
Dolittle
(PG)
Robert Downey Jr., Antonio Banderas
- .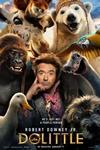 After losing his wife seven years earlier, the eccentric Dr. John Dolittle, famed doctor and veterinarian of Queen Victoria's England, hermits himself away behind the high walls of Dolittle Manor with only his menagerie of exotic animals for company. But when the young queen falls gravely ill, a reluctant Dolittle is forced to set sail on an epic adventure to a mythical island in search of a cure, regaining his wit and courage as he crosses old adversaries and discovers wondrous creatures.
Official Site
Trailer
---
Birds of Prey (And the Fantabulous Emancipation of One Harley Quinn)
()
Margot Robbie, Mary Elizabeth Winstead
- .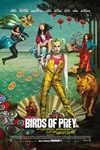 Official Site
Trailer
---
Fantasy Island
()
Michael Peña, Lucy Hale
- .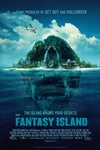 In Blumhouse's new spin on Fantasy Island, the enigmatic Mr. Roarke makes the secret dreams of his lucky guests come true at a luxurious but remote tropical resort. But when the fantasies turn into nightmares, the guests have to solve the island's mystery in order to escape with their lives.
Official Site
Trailer
---
Sonic The Hedgehog
()
James Marsden, Ben Schwartz
- 1 hr. 40 mins..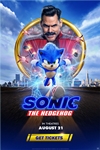 SONIC THE HEDGEHOG is a live-action adventure comedy based on the global blockbuster videogame franchise from Sega that centers on the infamously brash bright blue hedgehog. The film follows the (mis)adventures of Sonic as he navigates the complexities of life on Earth with his newfound - human - best friend Tom Wachowski (James Marsden). Sonic and Tom join forces to try and stop the villainous Dr. Robotnik (Jim Carrey) from capturing Sonic and using his immense powers for world domination. The film also stars Tika Sumpter and Ben Schwartz as the voice of Sonic.
Official Site
Trailer
---